SPRING 2022 LESSONS
Done for this spring but perhaps we'll do it again  next spring.
Sunday Afternoon Bridge Lessons for Youth
or for Adults Accompanied by Youth Students!
Lessons for kids ages 8 and up.   Cost is $5 and pre-registration by Saturday is required. WE CANCEL by Saturday with NO Pre-registered students!  Check this page to make sure we haven't cancelled if you did not pre-register!Adults can also attend the lessons  for $5 as long as they come with a child!  Make it a family affair!  No need to attend all lessons – come to those you can!
Where:  The Bridge Studio, 7115 W. 95th St., Overland Park, KS
Tentative 2023 Dates:
When:  1 to 3:30 p.m. Sundays from April 16,23,30 and May 7,14,21
Who:  Youth wanting to learn bridge or learn more bridge – we'll teach you wherever you are on the learning curve.  Adults can come and learn too, as long as they are accompanied by a youth!
What:  Lesson from 1 to 1:45, break and snacks, and then either a duplicate pupil game, supervised play, or more lesson/practice time until 3:30 p.m.  If a pupil game is offered a small amount of master points will be available!  Attend 4 lessons and get a textbook free.
How:  Funding provided by ACBL Educational Foundation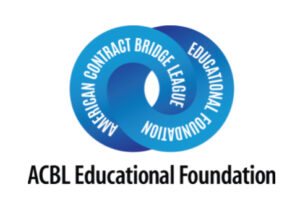 Click here to download the flier here.
OTHER QUESTIONS:  A form requesting contact information and any food allergies will need to be completed before any children can play.  That form will be available at the playing site.  Kathy Rolfe will be teaching on these Sundays.  Kathy has taught bridge to youth for over 20 years.  She has taught for many years at the Youth Bridge Education week long summer camp in Carlinville, IL and in that role of teacher is a mandated reporter for child abuse.  She has been background checked in both Illinois and Missouri.
Looking for volunteer table coaches for these Sundays.  If you can volunteer, please let Kathy know.
Shawnee Mission students we are looking for you, this program is right in your backyard!