Friendly Friday Duplicate
NEXT GAME:  May 7, 2021.  Pre-registering for the Friday games by 5 p.m on the Thursday before is now required.  See more detail below.
GAME RESULTS:
Dec. 13 STaC & Christmas Party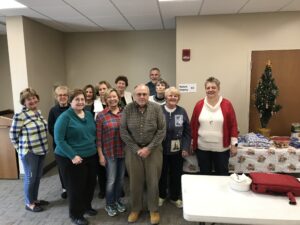 A good time was had by all!
Oct. 20 Teacher and Director Appreciation Unit Championship Game
(Masterpoints are final – had to change to a club championship since we didn't get in 18 boards.  Next time we do this we need at least 9 tables!)
Oct. 4 Game Results
Sep. 27 Results
Aug. 2 Game Results : Congrats to Rose for  your first master points on your birthday!  Happy Birthday!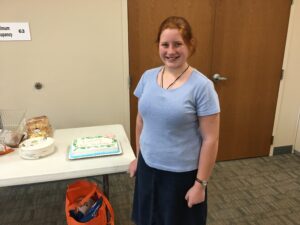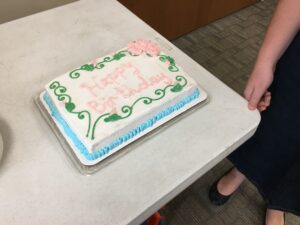 Day:  Fridays 10:30 a.m. .  SANCTIONED GAME!  Member of the Common Game! NEXT GAME:  May 7 will be directed by Kathy Rolfe.  You must notify us that you plan on playing – please do so by 5 p.m. the day before the game.   The game will cancel if we don't have at least 12 players signed up ahead of time.  If you find yourself able to play on Friday but had not signed up, please check this page to make sure we have not canceled.  If the game is still on, please feel free to come.    Liability release required to be completed and signed before playing.  Copies available on site.

Contact the director, Kathy Rolfe,  to let her know you plan on playing.  For the foreseeable future,  we are requiring that you sign up by Thursday at 5 p.m. if you plan on playing the next day.  If you have any questions or need a partner, please contact the director.

Where:
Holy Spirit Catholic Church
1800 SW State Route 150
Lee's Summit, MO
The church is located on the north side of 150 Highway,  second street on the right west of Ward Road (SW Arboridge Dr.) or the first left east of Pryor Road (SW Arboridge Dr.)
When:  10:30 a.m. to approximately 2:00 p.m.
Play begins promptly at 10:30, please arrive a few minutes early so you can be in your seats and ready to go by 10:30!
Cost:
$8 for non-members of Mo-Kan Bridge Academy
$6 for Mo-Kan Bridge Academy  members.  (See Membership.)
We will let you have your first play at the discounted Mo-Kan Membership price if you are an ACBL member.
What is included?
Coffee only due to Covid-19 precautions.  You may bring your own individual lunch or snacks, if not too messy.

Plexiglass dividers at 2 tables

Masks required.

Guaranteed partner if necessary
Pre-duplicated boards with hand records.  We will use the Bridge+ More Dealers and email hand records to you if we have 6 tables or less.
Member of The Common Game. 

(Once it starts up again.)

You will have results emailed to you if you are an ACBL member with your email on file.
Results will also be posted on this website.
Games Offered
Novice Game:   (0 to 20 masterpoints) stratified within this bracket if possible.  3 table minimum required.  If less than 3 tables, players will need to play in the open game.
Open Game:  Players can hold any number of masterpoints and play in this game.  Stratification within this game whenever possible, dependent on number of tables in play.
Partnership Guaranteed
This is a pair duplicate game which means you will be playing with the same partner throughout.  We encourage you to find a partner with whom you are comfortable.  However, if you need us to find a partner for you we will make every effort to do so ahead of the game if you contact us.  If a partner has not been found or if you suddenly find yourself without a partner, you can still come to the game, but let the director know ahead of time if possible.  We will either match you up with someone else in a similar situation at the game, or you will play with the game director as your partner.  Bear in mind, if you come to the game without a partner, you may have to play in the open game if your partner is not eligible to play in the novice game.
Contact the director, Kathy Rolfe ,  if you have any questions or need a partner, or just to let her know you plan on playing!
GAME CANCELLATION NOTICES-next game May 7, 2021
We MAY cancel our game anytime the Lee's Summit R7 School District is closed due to bad weather.  Check with the director if not sure.
We might need to cancel on short notice due to unexpected Church events.  Those who have let us know they plan on coming will get an email notice of cancellation.
Game cancellations will be noted on this page when they happen. 

  Games will be canceled by the Thursday evening prior to the game if we don't have at least 12 people signed up to play ahead of time.